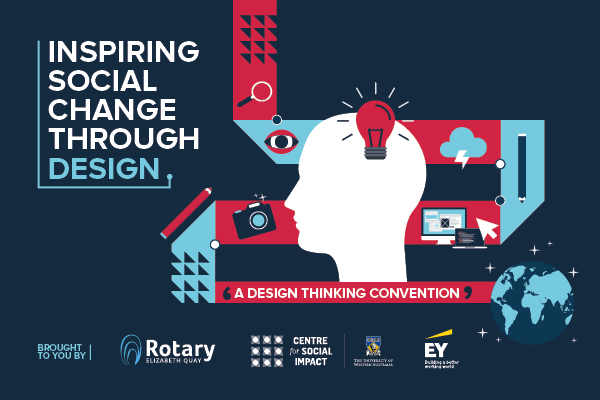 We all have the power to impact positive social change, but how can we collaboratively influence creating a healthy and more thriving society for all?
We are thrilled to present a half day Design Thinking Convention, together with the University of Western Australia (UWA) and The Centre for Social Impact (CSI). Design Thinking is a human centered approach to solving complex problems. This interactive learning experience will highlight pressing social issues impacting Perth in the next 5-10 years. Participants will be engaged in the principles of design thinking and inspired to apply them to impact social change.
The design thinking convention will consist of three parts:
Keynote speech and introduction to "Design Thinking" by Dee Roche.
Panel discussion, exploring current social issues in Perth in the next 5-10 years.
A facilitated workshop allowing participants to apply their understanding of design thinking to current social issues and community engagement in Perth City.
Panelists include:
AIMWA - UWA Senior Management Consultant, Dee Roche
UWA Centre for Social Impact Professor Paul Flatau
West Australian Council of Social Services CEO Louise Giolitto
Philanthropy VisAbility Executive Manager Tony Hagan
Foundation Housing CEO Kathleen Gregory
Holyoake CEO Angie Paaskevicius
Why should you take part in the event?
This event will bring together corporations, philanthropists, government, not-for-profits and social entrepreneurs to purposefully apply design thinking methodology to solve the many social issues impacting Perth City.
Learn and put into practice the methodologies of Design Thinking
Gain insights into the current social challenges impacting Perth in the next 5-10 years
Develop tools for creative social action in an experiential environment
Connect with like-minded business professionals to inspire generosity
Develop philanthropic ideas to change our Perth Community
This event is by invitation, but if you think this is a forum you could add significant value, we'd love to hear from you.